Thursday, November 1, 2018 - 8:00am
to
Sunday, November 18, 2018 - 6:00pm
FEED A FAMILY
Help a family in need by providing a Thanksgiving meal.
The YMCA will deliver your donated items to a local organization that will then give the meals out to meet the needs of our community.
Here's how you can help:
SHOP: Using the recommended below food suggestion list, visit your local grocery store to shop for items.
ENCOURAGE: Involve the kids! This is a great way to encourage a lifelong spirit of giving and social responsibility.
DELIVER: Bring your food donations to your local YMCA.
SPREAD THE WORD: Tell your family and friends about our Thanksgiving Food Drive and ask them to consider donating!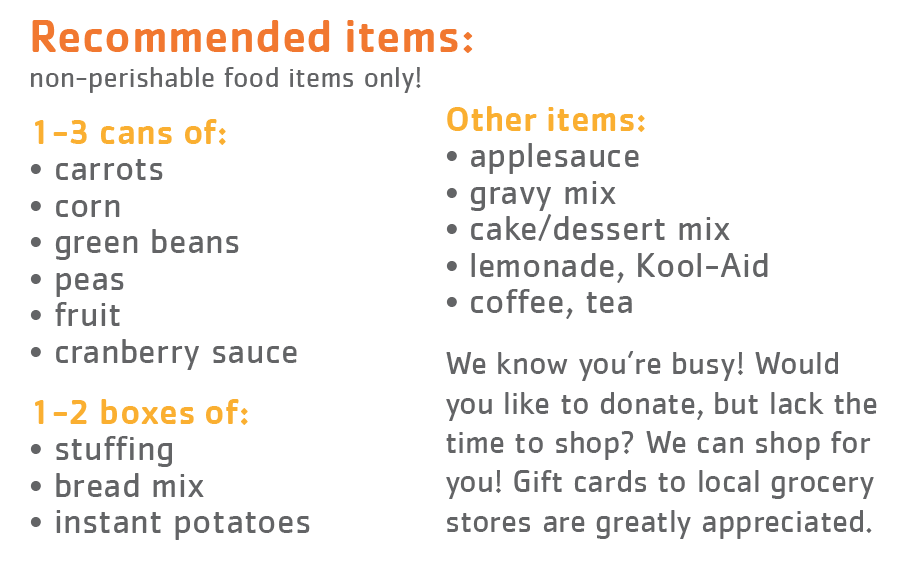 Now is the time to teach your child Social Responsibility!
• Lead by example. Remember, your child is watching you.
• Serve as a good role model by demonstrating the core values of Caring, Honesty, Respect & Responsibility.
• Take part in community drives. This allows your child to see the importance and benefit of giving to others.
• Involve your child when you are volunteering and serving the community.
• Helping others creates an opportunity to talk with your child about all of your family's blessings.