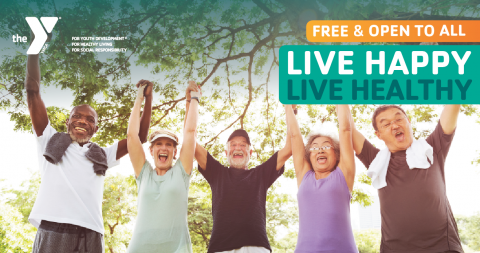 Join us at your local Gateway Region YMCA for our annual HEALTHY SENIOR DAY open house on THURSDAY, OCTOBER 18! This free community event designed to provide Active Older Adults age 55 and up with educational opportunities that can help them live with greater health and happiness. At the YMCA, we believe in building overall healthy lifestyles in spirit, mind and body.
Flu & Pneumonia* Shots provided through Walgreens (billed through your insurance company or purchased at the event-please bring your insurance card)
Fitness Classes
Social Opportunities
Screenings
Community Agencies & Partners
Volunteer Opportunities
Giveaways & Prizes
Snacks
*Patients interested in pneumonia shots will need to provide a complete copy of their health history in order to receive that vaccination.
Activities vary per location. Contact your local Y for event details:
FREE • OPEN TO ALL • BRING A FRIEND*
*Guests must present valid, state-issued ID. Age restrictions do apply for youth under the age of 18. Ask the welcome center for more details. Restrictions apply.