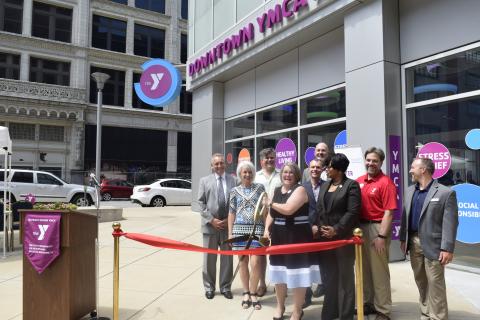 The new Downtown YMCA at the MX is open! We are looking forward to you joining us as we begin this next chapter in our long history of serving the Downtown St. Louis community. Stop in for a tour!
Amenities
The new location features many amenities, including a fitness center, state-of-the-art equipment, a spirit-mind-body studio and group exercise studio, private showers, changing rooms and steam rooms, an outdoor patio for outdoor classes and social functions, and an open lobby with free Wi-Fi, coffee, gathering and working areas. It also features many of your favorite fitness classes, like BODYPUMP®, Kickboxing, and SPRINT TM, and some great new ones like Hot Yoga and POUND®. And, we have the Precor Queenax Functional Training System, which optimizes results, intensity and fun with guided small group and one-on-one training.
Key Dates
Thursday, May 25, 2017: This was the last day of operations for the Y at its location at 1528 Locust.
Thursday, June 1, 2017: Opening day for the new Downtown YMCA at the MX.
Membership
Membership at the Y allows you access to any of our 24 branches in the bi-state area, including our four other branches in the City of St. Louis – the South City Family Y, the Monsanto Family Y, the Carondelet Park Rec Complex and the O'Fallon Park Rec Complex. Click here to learn more about the benefits of being a Y member.
Downtown Y at the MX Hours of Operation:
Monday - Thursday: 5:30 am - 9 pm
Friday: 5:30 am - 8 pm
Saturday: 7 am - 3 pm
Sunday: 10 am - 3 pm
Parking
Plenty of parking is available at the new MX location in the Downtown East Garage located on 6th Street directly across the street from the branch. The entrance to the garage is on 6th Street as well. Parking fees are the regular market rate from 8 am – 5 pm, Monday - Friday. Parking passes are available for $1 for two hours on the weekend, and for those who depart prior to 8 am or arrive after 5 pm. Passes are available for purchase at the branch.
If you have any further questions, please don't hesitate to stop in or call the Downtown Y at 314-436-4100. Be sure to also check out the latest news and updates on our Facebook page.