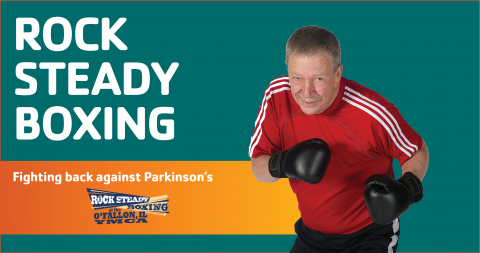 Fighting Parkinson's Disease
Rock Steady Boxing uses non-contact boxing techniques to fight Parkinson's Disease. This fitness program is designed to improve the quality of life, sense of efficacy and self-worth for those affected by this disease. No boxing experience is necessary and people of all ages are invited to participate. Several medical studies on exercise and Parkinson's Disease have shown that forced intense exercise can slow the progression of the disease. Instructors are certified in Rock Steady Boxing and Personal Training.
Get to know some participants whose lives have been benefitted by Rock Steady classes!
Begins May 2
Tuesdays, 3-4 pm
Monthly program fee: $20/member $50/non-member
Includes a Wellness Assessment with a personal trainer, boxing gloves and wraps.

For questions, please contact Karyn Weber via email or (618) 628-7701.