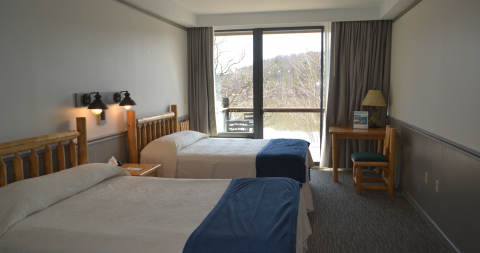 A grand reopening was held April 20, 2018 at YMCA Trout Lodge and Camp Lakewood following a four month, multi-million dollar renovation project.
Renovations to the Lodge's guest and loft rooms included new decks and window walls in each room overlooking the 360-acre Sunnen Lake, new paint and carpet in each room and the hallways, a new HVAC system, fire protection system updates, and the conversion of six fully accessible guest rooms.
"The completion of these renovations wrapped up the first phase of our multi-phase capital campaign and set the stage for the next phase," said Nelson Bagnardi, Executive Director of YMCA Trout Lodge and Camp Lakewood. "We couldn't be more excited to share the renovations with our guests. The views provided by the additional windows in each room and the new decks are just stunning and really showcase the beauty of our property."
Improvements were funded by phase one of the "It's Time" capital campaign that was conducted 2015-2017.
For more information on YMCA Trout Lodge and Camp Lakewood, visit www.ymcaoftheozarks.org.