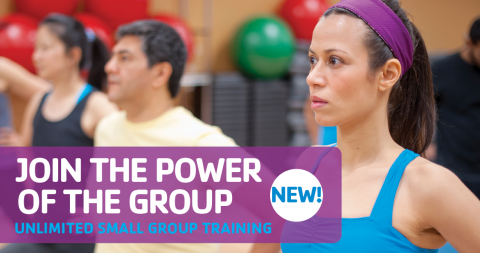 Unlimited Small Group Training Classes - NEW!
Our new Unlimited Small Group Training is designed to give you a variety of high performance exercises with the momentum of a group and nationally certified trainer behind you. Sign up by the month and get unlimited small group training classes for just $50 a month.
Statistics have proven that working out in a group produces longer lasting results than working out on your own. Sessions are designed to give you a high calorie-burning workout based on key movements of daily living. Our Group Training classes are taught by a nationally certified staff and are designed to get you results. Registration in this program allows members to take any class that is on the group training schedule.
Online registration is available.
Small Group Training Class Descriptions
Suspension Training TRX
Suspension training leverages gravity and your body weight to perform hundreds of exercises using a strap system. You control how much you want to challenge yourself simply by adjusting your body position to add or decrease resistance.
Boot Camp
Bootcamp is a combination of strength, cardio, muscle endurance, flexibility, core and functional movement patterns. We utilize many different training tools including kettlebells, battle ropes and much more.
Heart Zone Training
Train smarter, not harder. Learn to let your heart help you reach your goals. Either for performance, fitness or body composition, cardio training with heart puts science into your workout. You will get individualized assessments based on your body's reaction to exercise rather than a formula.
High Intensity Interval Training (HIIT)
HIIT combines short, intense workouts for improved athletic capacity and conditioning, improved glucose metabolism, and improved fat burning. Workout may or may not include equipment.
Small Group Training Class Days/Times
Mondays
Heart Zone Training 10:45-11:15 am (Bobby)
Bootcamp 4:30-5 pm (Denny)
Tuesdays
Boot Camp/Core 6:45-7:15am (Ami)
Suspension Training TRX 11:15-11:45am (Sandy)
Wednesdays
Boot Camp 4:30-5 pm (Denny)
Thursdays
Boot Camp/HIIT 6-6:30am (Kristy)
Suspension Training TRX 11:15-11:45am (Sandy)
Fridays
Heart Zone Training 10:45-11:15 am (Bobbie)
Saturdays
Boot Camp/Kettlebell 8:30-9 am (Austin)
Program Contact:
Health & Wellness Director Angela Weaver
angela.weaver@gwrymca.org
(636) 5313-6515 ext. 259