You are here
Meet Joshua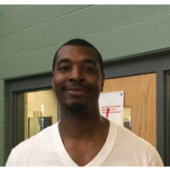 Meet Joshua
"I can remember working at the YMCA as being one of my dream jobs."
"My story starts off when I was a boy growing up in East St. Louis, where there was not a lot of positive outlets for Inner City children at the time. However, the YMCA was one of those few positive outlets. Twenty years ago, at the age of nine, I could remember occasionally going in to the YMCA just admiring the staff of this "popular establishment." I looked up to them! They were great! I could also remember the peace I felt, as well as the light ringing in my ears from being in such an uplifting place. As a kid, I can remember working at the YMCA as being one of my dream jobs. It was not just because it was a beautiful place to be, but a great establishment to be a part of. What I mostly remember, and what mostly stood out, was the YMCA employees. They were a positive inkling, a hint, to the story of life.
What brought me to the YMCA is that in college I received a Full-Ride scholarship for playing basketball at Mid-America Christian University in Oklahoma City, Oklahoma. With the Full-Ride scholarship, I received a free membership to the state-of-the-art Greater of Oklahoma City South Oklahoma City Earlywine YMCA. In the summer of 2008, I joined the YMCA as an official/referee for basketball.
I love that I am currently an employee of this Heaven-sent place, implementing a basketball camp in the summer, having an inspiring position as a Health & Wellness Fitness Attendant, Aquatics Instructor, Membership Service Associate, Sports Official in basketball, volleyball and soccer, as well as working with the special needs youth at the YMCA. I am proud, blessed, grateful, and humbled to be a part of this great Non-Profit organization."