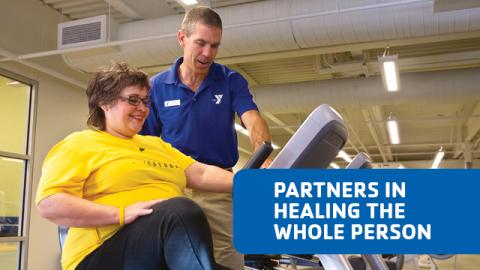 LIVESTRONG at the YMCA
Cancer is a life-changing disease that takes a tremendous physical and emotional toll on those affected. The Y and the LIVESTRONG Foundation have joined together to create LIVESTRONG at the YMCA, a research-based physical activity and well-being program designed to help adult cancer survivors reclaim their total health. Participants work with Y staff trained in supportive cancer care to safely achieve their goals such as building muscle mass and strength; increasing flexibility and endurance; and improving confidence and self-esteem. By focusing on the whole person and not the disease, LIVESTRONG at the YMCA is helping people move beyond cancer in spirit, mind and body.
If interested or to find more information at the East Belleville location, contact Stefanie Mclaughlin at 618-628-9983.
If interested or to find more information at the Downtown Belleville location, contact Jeremy Moore at 618-233-1243.
Angie's LIVESTRONG Story
"In July of 2016 I was diagnosed with stage 2 breast cancer. Before this I had been feeling better than I had for many years due to losing 180 pounds. I believe it is due to the weight loss that I found the cancer. I had just had surgery that May before the diagnosis in July which was followed by a double mastectomy September 1st. Because my cancer was hormone sensitive I then had a total hysterectomy December 1st. Then a week later I started 16 ½ weeks of radiation therapy. Soon after I had finished radiation my oncologist told me about the Livestrong program for cancer patients and survivors. I called the Downtown YMCA to get more information and I talked to Jeremy who told me about the program and what all was involved.
I was excited to meet other patients and survivors and to learn how to work on my health. I had lost so much strength and stamina throughout my illness so far that I was very nervous to start a program where I would be "working out."
After starting the program, I met Regina and Rita who along with Jeremy helped me to realize there was nothing to be nervous about. The first class I met Marilyn, Joyce and Fred and we got to know one another. The trainers assessed our beginning levels of fitness, and we quickly got into working on cardio and strength exercises. We also had time where we were able to talk about nutrition and mental health as well as just learning about each other's journey with cancer. During each class the trainers encouraged us to do more than the last time and with their support and guidance I was able to walk faster and further on the treadmill as well as lift more and move more. By the end of the program I was definitely stronger plus I had new friends.
Not long after that I ended up with another surgery followed by complications and a severe infection. Once I was home I received a beautiful card in the mail with words of love and encouragement from everyone, including the trainers, in my Livestrong group. I am grateful for having had a program such as the Livestrong program available to me not only to help me get stronger but to also help me believe in myself and know I can do it. Thank you so much to the YMCA for offering the Livestrong program. I still have 2 or more surgeries to go but I know that the YMCA and my Livestrong friends will be there through it all and will help me get stronger and healthier again."