You are here
Group Exercise Classes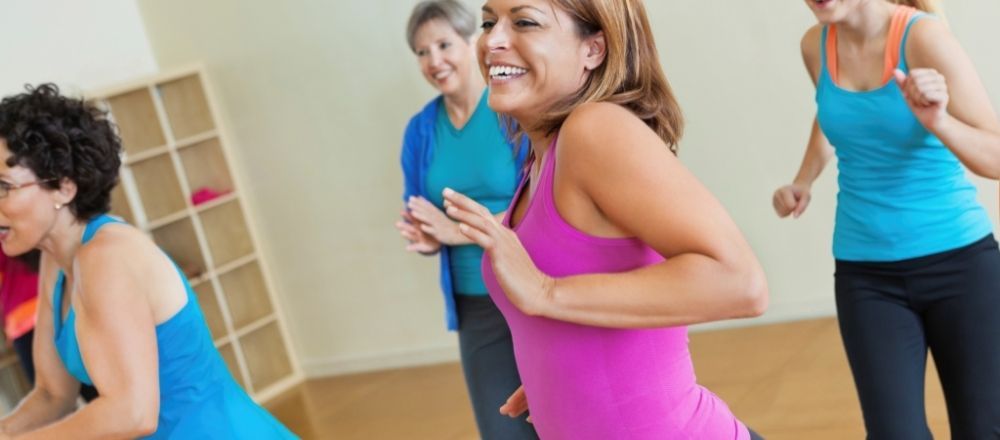 The Y offers a wide variety of your favorite group exercise classes FREE with membership. From yoga to cardio kickboxing, we have something for every interest and every fitness level. Our experienced instructors will help you have fun and get healthy while you gain strength, endurance, and increased energy. Check out the list of FREE classes below. Class lists and schedules vary, so please visit your local branch page to see the latest class schedules, or call or visit your branch.
CARDIO CLASSES
Simple Step – Learn the basic step moves in this easy to follow, fun class intended for the beginner
Super Step – Now that you have the basics, have fun learning new patterns in this quicker paced class. Get the high energy and challenging choreography in this intense workout that will increase your cardiovascular and muscle endurance.
Cardio – a low impact, easy to follow workout designed to increase cardiovascular endurance.
Cardio Blast - Focuses on interval training and/or workouts which aim to bring benefits of muscular toning, body fat reduction and cardiovascular efficiency in a minimal amount of time. Simple, fun and extremely effective.
Fit for All - Low impact aerobics class great for those wanting a low impact workout. This class is designed to increase balance, coordination, flexibility, and strength.
Zumba® – The ultimate dance-fitness party set to Latin and world rhythms. Before you know it, you'll be getting fit and your energy levels will be soaring! It's easy to do, effective and totally exhilarating.
Zumba® Gold – Class focuses on all elements of fitness: cardiovascular, muscular conditioning, flexibility & balance. Geared towards those who are looking for a modified Zumba™ class that recreates the original moves you love at a lower intensity.
Zumba ®Step – Combines all the toning and strengthening of Step with the Zumba fitness-party everyone loves.
Turbo Kick® – Combines shadow boxing, kickboxing, sports drills and dancing for an intense cardio workout that helps develop new skills and a strong core as well as burning a ton of calories in this fierce but fun class.
Hip Hop Hustle®– blends Hip Hop and dance moves to current top 40 hits in an easy to follow fun format that will help you burn calories.
Line Dancing - Learn the basic steps to several line dances. Make friends, have fun and you don't need a partner!
Dance - Cardio Funk – this class provides a great workout while having fun dancing to a variety of choreography such as hip hop, dance hall, and jazz.
Pound® - Full-body cardio jam session, combining light resistance with constant simulated drumming. The workout fuses cardio, Pilates, isometric movements, plyometrics and Isometric poses into a 45-minute series. Burn between 400 and 900+ calories per hour, strengthen and sculpt infrequently used muscles, and drum your way to a leaner, slimmer physique – all while rocking out to your favorite music!
TABATA – High intensity interval, 20 sec on, 10 sec off for 4 minutes. Burn high calories in 60 min and improve toning and cardio endurance.
Trekking – Power walking and/or running indoors on a treadmill led by an instructor, including hills, sprints and power walking.
R.I.P.P.E.D.® – total body workout, utilizing resistance and cardio training, which combines Resistance, Intervals, Power, Plyometrics, Endurance and Diet, to help you attain and maintain your physique in ways that are fun, safe do-able and extremely effective.
Kickboxing – Learn the basics of Kickboxing, class will increase cardiovascular endurance and strength. Working individually or in pairs for rounds of intense work in an easy to understand format. Boxing gloves may be required.
Cycling – Cycle your way to fitness and improve muscle tone and endurance with this customizable, fun, challenging class. Using stationary bikes, upbeat music, and motivating instruction for an invigorating cardiovascular workout.
Spinning® Classes - Spinning classes concentrate on heart rate training developed around 5 zones: Recovery energy zone, Interval energy zone, Endurance strength zone and Race day zone. Derived from real road cycling Spinning combines 3 basic hand positions and 5 core movements with the goal of bringing health & fitness to every lifestyle.
COMBINATION CLASSES
Step and Strength – This class will combine challenging step choreography along with sculpt and stretch to increase your cardiovascular/muscular endurance and flexibility
Zumba®Toning – Blend body-sculpting techniques and specific Zumba moves into one calorie-burning, strength-training experience. The challenge of adding resistance by using weighted, maraca-like Zumba Toning Sticks (or light weights) helps you focus on specific muscle groups, so you (and your muscles) stay engaged.
Cycle Fusion – combination of cycling and other disciplines such as yoga, pilates, or strength training
Insanity®–For those having the motivation to dig deeper each class and not give up. You will compete against yourself to go harder and go faster. If you're ready to drip, sweat and work hard, this is the challenge for you. It's time to dig deep!
Piloxing® – Power, speed, agility of kickboxing in fusion with pilates for flexibility
Pilates Fusion – Fusion class blends Pilates with dynamic stretches and yoga to gain noticeable strength, balance and flexibility results
Circuit Training – This class will kick you in gear by rotating you through multiple muscular endurance and cardio endurance stations. Intensity increases with each completed circuit, so prepare for a challenge.
Boogie Dance & Tone – Low impact dance class using motivating, fun music from the baby boomer generation, with lig ht muscle endurance toning throughout the class.
Intervals – Intense cardio and strength training drills with plyometrics for a well rounded workout.
LIVESTRONG® at the YMCA - A free 12-week physical activity program for cancer survivors that meets twice per week. Y Staff are specially trained to help participants safely reach their goals of building muscle mass and strength, increasing flexibility and endurance, and improving confidence and self-esteem. In addition to the physical benefits, the program provides participants a supportive environment and a feeling of community with their fellow survivors, YMCA staff and members. Click here for details!
STRENGTH CLASSES
BODYPUMP® - A strength training program where we integrate high-repetition movements, with light to moderate weights, to deliver a total body workout. Throughout this 55 minute class, you'll burn calories, build strength, and be motivated by popular music and an inspirational instructor. This class is not about building bulk; it's about developing lean, toned muscles. You'll use a step and weights during this program.
Power Pump – Using barbells to strengthen, define and tone all muscle groups for a complete strength training workout. **Some classes may include cardio segment.
Bodyworks – Using weights, balls and resistance tubes you will target and tone the entire upper and lower body muscles and abdominals. A great class to tighten and tone problem areas.
Core and More – This class teaches proper exercises and form to effectively strengthen the abdominals. Starting with crunches and then moving on to core strength moves including side bends and planks for plenty of variety.
Core Motion – Get on the ball in our dynamic large stability ball class. The ball engages your core muscles throughout each exercise as you improve cardiovascular fitness, strength and balance.
Healthy Back – Strengthen and stretch the specific muscles and joints that promote overall back health
Ballet Sculpt – combines classical ballet exercises using body weight for resistance. Develops muscular endurance, dynamic balance, flexibility and core strength.
Belly Dancing – based on the ancient art, this class will strengthen and tone your core while improving balance, stamina and coordination
Silver Sneakers® Classic – Have fun and move to the music through a variety of exercises designed to increase muscular strength, range of movement and activities for daily living. Hand-held weights, elastic tubing with handles and a Silver Sneakers ball are offered for resistance. A chair is available if needed for seated or standing support.
MIND/BODY CLASSES
Tai Chi – Slow progression encouraging balance and harmony in your mind, body and spirit. A sequence of movements that combines meditation and tranquility.
Qi Gong – These unique, stationary poses can replenish energy of the mind, body and spirit that is depleted by daily stress and illness. Qi Gong strengthens the muscles and bones, and is a great addition to Tai Chi.
Subtle Energy Balance – Learn and practice daily energy routine and meridian tracking for keeping body's subtle energies balanced. The gentle moves can boost overall energy, improve mood, assist in memory, reduce pain and support the immune system. Most moves can be done sitting or standing.
Foam Roller - The foam roller is used as a self-massage technique to reduce muscle tension through rolling, rocking, and body weight pressure on the roller, while simultaneously strengthening the core, and increasing flexibility. The class guides you through proper techniques and pressure for the major muscles, whether you are an athlete and/or experiencing chronic pain. Increases circulation, myofascial/muscle tissue recovery time, and overall energy!
Guided Meditation - Meditation is an approach to training the mind, similar to the way that fitness is an approach to training the body.
Yoga – This class will help you build strength, improve posture, flexibility and balance through combinations of breathing and postures.
Power Yoga – A more intense workout that incorporates more challenging techniques and holds.
Prenatal Yoga – Relax, stretch and reduce stress in this yoga class designed specifically for mothers-to-be.
Gentle Yoga - Restore yourself and find balance through yoga. Increases strangth, improve posture and reduce day to day stress.
Yoga Sculpt - Heat building yoga flows with hand weight segments infused to target the upper body, shoulders and core.
Barre Fitness® Full body workout that fuses the best elements of ballet, pilates, sports conditioning and stretching for a truly unique and fun experience. The moves are low impact but high intensity intervals of strength training followed immediately by deep recovery stretching.
Pilates – A complete body conditioning class that uses the "Power House" muscles of abdomen, lower back, hips and glutes, while lengthening the muscles. Form and principles of Pilates are based on the philosophy that mind and body must work together in order to achieve overall fitness.
PiYo Live ®– the very best Pilates and Yoga inspired moves and cranked up speed to give you full-throttle cardio, strength and flexibility training – all at once. PiYo packs it all into each workout so you can build lean muscle mass-as you are burning crazy calories.
Simply Stretch – stretch and flex those sore, tired or aching muscles. Your body will love you!
Athletic Stretch - Stretch combining traditional athletic stretching and yoga positions. Geared towards creating a more flexible and healthier you.
Silver Sneakers® Yoga – Move your body through a complete series of standing and seated yoga poses. Designed to increase flexibility, balance and range of movement.
SUITABLE FOR SENIORS
Chair Yoga – Designed especially for Active Older Adults, this chair-based class uses Yoga postures to increase flexibility and reduce stress.
Functional Training – Movements focus on effort to improve mobility, flexibility and balance.
Senior Cardio Blast - Great Low impact workout but with more advanced/challenging choreography. Perfect for seniors who want a more challenging workout without the high impact on the joints.
Fit for All - Low impact aerobics class great for those new to exercise. This class is designed to increase balance, coordination, flexibility, and strength.
S.O.S - Great class for older adults who are seeking a great workout that will incorporate strength training to build muscle mass & preserve bone density, reducing the risk of osteoporosis.
Senior Cardio Conditioning - This chair based cardio class is safe and heart healthy while being gentle on the joints. Easy to follow low impact movement, with abdominal conditioning, strength, stretching and relaxation exercises designed to energize your active lifestyle.
Muscles In Motion - Geared towards active older adults and set to the music styling of the 50s and 60s. Using weights, balls and resistance tubes you will target and tone the entire upper and lower body, including the abdominals. Great class to tighten and tone.
Silver Sneakers® Cardiofit – Get up and go with an aerobics class that's safe, heart-healthy and gentle on the joints. The workout includes easy-to-follow low-impact movement and upper body strength, abdominal conditioning, stretching and relaxation exercised designed to energize your active lifestyle.
Silver Sneakers® Circuit – Combine fun with fitness to increase your cardiovascular ad muscular endurance power with a standing circuit workout. Upper-body strength work with hand-held weights, elastic tubing with handles and a SilverSneakers ball is alternated with low-impact aerobic choreography. A chair is used for standing support, stretching and relaxation exercises.
EnhanceFitness® is a proven community based senior fitness and arthritis management program. It's purpose is to help older adults become more active, energized, and empowered for independent living. The program consists of low impact exercise classes that are safe and challenging for older adults of all fitness levels.
Silver Sneakers® Yoga – Move your body through a complete series of standing and seated yoga poses. Designed to increase flexibility, balance and range of movement.
Brains & Balance Past 60: This innovative program is a clever combination of specific activities designed to improve your client's memory, reasoning, conceptualization, language and problem solving skills. In addition you'll learn age-appropriate exercises to strengthen the core and reduce a senior's risk of falling while standing or walking. Discover how much fun brains and balance training can be while you exercise your client's mind and body with our specially designed curriculum.
YOUTH & FAMILY CLASSES
Youth Fitness and Friends - a 30 minute class that mixes cardio, strength and F-U-N!
Zumba® Kids – the ultimate dance-fitness party for young Zumba fans ages 7-11, where they can play it loud and rock with friends to their own rules! This program features age-appropriate music and moves that get kids movin' to the beat.
Zumba® Kids Jr – classes are a dance 'n' play party for lil' feet where pint-sized party animals get silly, dream big and begin their journey to a healthy future. This program is where 4-6 year olds just let loose and be themselves. Here they can socialize, move to age-appropriate music and play games with other kids.
Yoga for Kids - basic Yoga poses in a kid friendly environment sure to help with balance, flexibility and overall fitness