You are here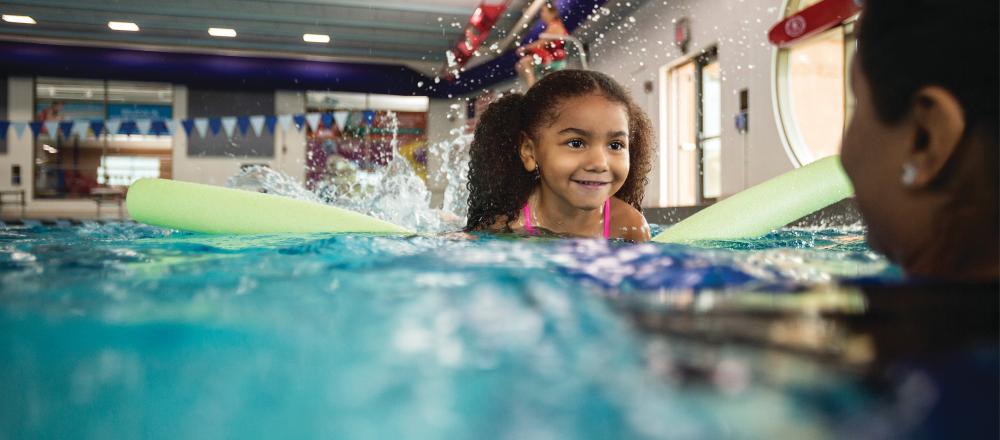 Swim Lessons
Y Swim Lessons provide important life skills that could save a life and will benefit you for a lifetime. Swim lessons nurture swim skills, develop self-esteem and creating positive experiences that leave a lasting impression. Group swim instruction was developed by the YMCA in 1906 and we continue to serve as America's Swim Instructor. Click here to see six reasons why every child should take swim lessons.
8 Week Session Dates: January 7 – March 3
4 Week Session Dates: January 7 – January 30 • February 4 – February 28

Member Registration Opens: December 3
Non-Member Registration Opens: December 10
Swim Starters
Accompanied by a *parent, infants and toddlers learn swim readiness skills through fun and confidence-building aquatic experiences.
*At the Y, we know families take a variety of forms. As a result, we define parent broadly to include all adults with primary responsibility for raising children, including biological parents, adoptive parents, guardians, stepparents, grandparents, or any other type of parenting relationship.
Swim Basics
Recommended skills for all to have in and around water. Students learn water safety and basic swimming competencies.
Swim Strokes
Skills to support a healthy lifestyle. Students build strong techniques that foster a lifetime of physical activity.
Teen & Adult Swim Lessons
Learn to swim or improve current ability. Teen and Adult lesson are designed for ages 13 and older and follow swim Stages 1-6.
Private & Semi-Private Swim Lessons
Private and Semi-Private lessons are a great option for swimmers looking to catch up or get ahead. These customized lessons give you individualized attention to help improve or master swimming skills. Click here to register!
Please note that lesson offerings vary across the Gateway Region YMCA association. Find your local Y here to contact your Aquatic Director for more information.
The Y is committed to ensuring that everyone who wants to be a part of the Y has the opportunity. Financial Assistance is available for membership and programs to those who qualify, thanks to the generous support of those who give to our Annual Campaign. Download the application here.