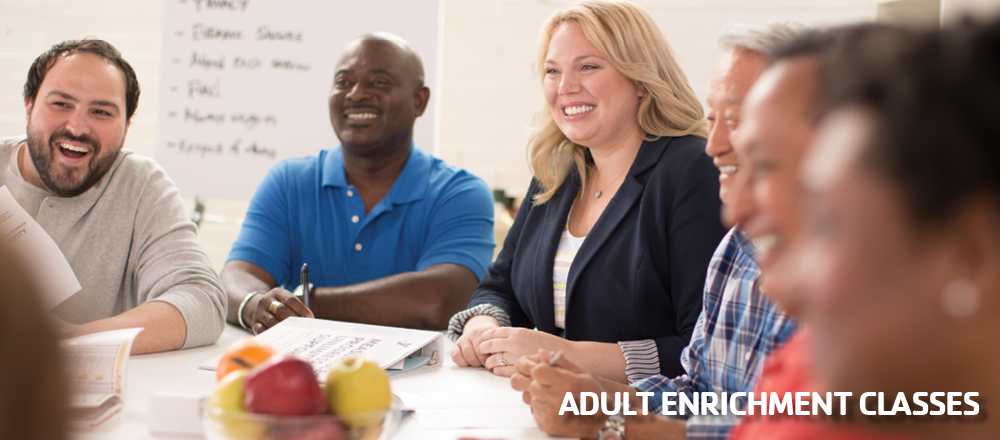 Join one of our Adult Enrichment Classes and find a new hobby or two. You'll learn lifelong skills to create beautiful hand-made items to enjoy and share with others. You'll learn techniques to find your inner peace. All while making life-long friends and socialize with individuals with similar interests. If you have a program idea that you'd love to see us offer, contact Kay with details.
Mindfulness & Meditation Series on Thursdays 10:30 to 12:00 in the Community Room
Mindfulness & Meditation is all about the benefits of being conscious, present and in charge of how you participate in life. This class will help you with stress reduction, lowering anxiety, clearer mental focus, memory enhancement, and fewer accidents. It's not about sitting quietly, it's about learning to become fully present at this moment and choosing what is going on in your brain. Techniques are taught to support relaxed alertness, monitor and change thought patterns and improve memory and comprehension. Information and practices will be covered about your brain waves, how to shift them and most importantly how to lower your beta waves which cause anxiety, stress and are precursors to many mental imbalances.
"If we get good at being present our life becomes a meditation full of joy and wonder." Dress comfortable and bring what you need to be supported in a sitting and lying position. Accommodations can be made if the floor is a challenge. We encourage members to take the whole series as the classes build on each other.
Book Club-Most sessions on Mondays at 12:30 to 1:30 in the Community Room
Join our Book Club and have a great book talk with other members. Our club picks books from the St. Louis County Library Adult Group Discussion Kits. Most sessions the group reads two books and the books are given out the first and fourth weeks. We read about 100 to 125 pages a week and discuss what we have read or associated topics. Our schedule for coming books is on the Bulletin Board in the Community Room.
Basket Making on Tuesdays at 2:00 to 3:30 in the Community Room
Join us for Basket Making and learn basic weaving skills. In this class, a new basket pattern is taught each session which includes new techniques and review of techniques used in previous projects. Each session has a large and a small project. All supplies for the baskets are provided and each student should bring a towel, spray bottle, a paint can opener, pencil, and scissors. Pictures of upcoming projects are on the Bulletin Board in the Community Room.
Knitting and Crocheting on Thursdays at 2:00 to 3:30 PM in the Community Room
Join our knitting and crocheting class and learn the basic knitting stitches of garter stitch, stockinette stitch, ribbing and more. Learn how to read a pattern along with the techniques need to create beautiful hand-made items to enjoy and share. Enjoy this lifelong skill and socialize with individuals with similar interests. Some yarn, instructions, and patterns are provided. Students will need a #8 crochet hook and/or a #13 knitting needle to start and may need other sizes as they progress. A 3 ring binder, pencil & paper and scissors would be helpful. This is a great way to enhance coordination, develop and strengthen neuro pathways as well as an opportunity to enjoy and make new friends.
Non-Competitive Ping Pong - Monday or Wednesday or Friday or all three days at 10:30 to 11:30 in the Hub
Ping-pong has been known to gather people together through volleying and practice. The emphasis is on skill building, enhancing hand-eye coordination and social interaction.
Drawing Open Studio on Mondays at 10:30 to 12:00 in the Caring Room
With support to all skill levels, our drawing studio will support the student or artist where they are, for beginners we offer instruction and projects. For the more experienced your peers and instructor are here to support skill development. Beginning students should bring their sketchbooks and any pencils they may have. For more experienced students bring your projects and what you need to support your medium. This class is taught by Polly, an artist and art teacher.
Nutrition Made Clear Thursdays 1:30 to 3:00 in the Community Room
This is the first in the 5 session video series all about nutrition. A full list of the topics is on the bulletin board in the Community Room. Bring a notebook for the handouts. The build on each other so please take them in order.
Body Electric Level 5 on Tuesdays 12:30 to 2:00 in the Community Room
Body Electric is about understanding yourself as an electromagnetic field of dynamic energy. This series of classes build on each other to form an understanding of your field, how it works and how you can learn to change your patterns. What this means for you is that once you understand how you work, you can shift your field which is directly correlated to how you feel, your stress and pain levels and your emotions. Each student will learn a variety of techniques that they can do for themselves to get into balance. The folks who have taken the class have all experienced significant changes in their overall well-being, increased energy levels, decrease in pain and stress and many discovered that there were a variety of ways to change how their bodies respond to live and work with their health care professionals, were able to reduce their dosages or titrate off some medications.
This class is taught by Kay a trained Energy Practitioner with over 20 years of experience in the field of energy medicine.