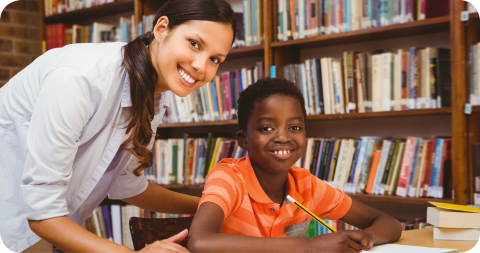 Literacy Tutors
The Y is committed every day to social responsibility – helping people better their lives. Improving literacy skills not only affects the individual, but it will improve the lives of their families for generations to come. Volunteer Literacy tutors meet with their students weekly at local libraries. For more information on how to get involved: contact Jessica at jessica.houchin@gwrymca.org or call 314.776.7102 to take the first step in changing someone's life by helping them learn to read.
We provide regular training for new tutors. Tutor trainings are held on the following Saturdays from 9am–3pm at the Historic Carondelet Y, 600 Loughborough, St. Louis MO 63111
2018

Tutor

Training Dates

May 19

July 21

Sept 8

Nov 10
Reach & Rise Mentors
The Reach & Rise Mentoring Program, a 1-on-1 mentoring program run through the Gateway Region YMCA, needs YOUR help to support local youth in need. There are currently 30 kids on our waiting list and with your help, we can end the list.
As a mentor, you will spend 1-3 hours a week with a young person for one full year. You'll have a chance to have fun, to be a kid again, and to learn a lot about yourself. All the while you'll be teaching some life lessons and helping support a child.
All it takes is ONE supportive adult to forever alter the life of a child. To help a child go from a statistic to a success story. If you're interested in being the one adult for a child, then contact Mike Abrams at mike.abrams@gwrymca.org.
2018 Mentor Training Months
July
October