You are here
Flag Football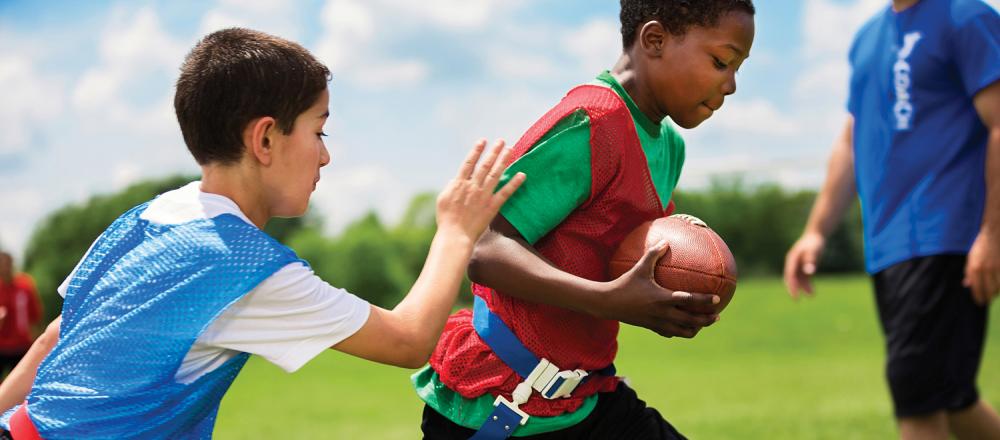 Flag football is fun for everyone and a safer alternative for parents who might hesitate letting their children start tackle football. The YMCA promises no tryouts, no getting cut and no bench warmers! Your child will learn how to throw, catch, run routes and all of the positions of the game. We use the YMCA Games Approach in our coaching methods where your child will learn the sport and have fun. Every child plays at least half of every game while making friends and learning new techniques. We want to help cultivate our youth into becoming outstanding people just as much as helping them become outstanding players.
Ages: 6 to 12 (Ages for leagues vary by YMCA branches)
Spring & Fall Leagues feature:
Seven games - on Saturdays - a season
One practice per week
Trained volunteer coaches
YMCA trained and screened officials
Good sportsmanship and core values modeled and promoted
Focus on fundamentals and new skill development
All players receive equal play time
Team jerseys and end of season awards
​___________________________________________________________
2017 Spring Session Early Bird Registration: December 17, 2016 – February 20, 2017
2017 Spring Session Registration: February 21 – March 6
2017 Spring Session Practices Begin: Week of March 20 | Season Dates: April 1 – May 20
2017 Spring Session Youth Flag Football Leagues Offered at: Carondelet Park, Edward Jones, Four Rivers, Mid-County, Monsanto, O'Fallon Family – MO, South City, South County, St. Charles, West County, Wildwood
​___________________________________________________________
Uniforms and Equipment: What Players Need to Bring
Each player will receive their team jersey/shirt before the first game of the season. These will be handed out to the coaches, and it will be their responsibility to distribute these to each of their players. Athletic or sport-appropriate shoes and shorts and/or sweats should be worn in addition to the uniform shirt. Mouth guards and eye goggles may also be worn but are not mandatory.
Flag football players should bring water in spill-proof, non-breakable container. We recommend that they wear mouth guards. Optional equipment is their own ball and cleats (no metal cleats.) Grades 1-3 use a pee wee ball. Grades 4-6 use a junior ball.
Informational Youth Sports Handbooks​
Parent Handbook
Coach Handbook
Sports Safety
The Gateway Region YMCA partners with Cardinal Glennon SportsCare to give kids a healthy advantage through educational programs and support for parents, coaches and athletes. Cardinal Glennon representatives visit sports programs at our YMCA branches to share information on injury prevention, proper technique and overall athletic health. Here are tips for:
Click here to view more Sports Safety and Injury Prevention sheets from Cardinal Glennon SportsCare. If you need help finding an expert physician for your young athlete, contact a local SportsCare representative at 314-577-5640 (this is a Cardinal Glennon phone number, for YMCA phone numbers, please view locations where this program is offered at left or click here for all YMCA locations.)